Dog or its master ? The scientific study of human or canine coprolites from the prehistoric pile-dwelling site of Stare gmajne, Slovenia.
Basic Info
Original Title

Pes ali njegov gospodar? Znanstvena študija človeških ali pasjih koprolitov s kolišča na Starih gmajnah v Sloveniji

Collaborators

dr. Maja Andrič

,

dr. Elena Bužan

,

Nina Caf, dr. Alfred Galik

,

dr. Franc Janžekovič

,

dr. Tina Klenovšek

,

dr. Laura Iacolina

,

dr. Matthieu Le Bailly

,

dr. Erwin Rosenberg

,

Borut Toškan, PhD

,

Anton Velušček, PhD

,

Lars Zver

Code

J7-2598

Duration

since November 1, 2020 to October 31, 2023

Project Manager

Financial Source








Description
Sixteen dog or human faeces from the Late Neolithic (Eneolithic) pile-dwelling site Stare gmajne in Slovenia were found in 2007 where a 15 m2 trench was excavated. They were preserved by waterlogging and are stored in a refrigerator (e.g. Fig. 1). One piece of fossil excrement that was very similar in shape and structure to those from the Stare gmajne site was found at Črnelnik, another Late Neolithic site in Ljubljansko barje. It has already been analysed and it contained many fish head bones and teeth together with some plant macroremains (Velušček et al. 2018, 25-26 in Tolar & Galik 2019). As the vertebrae were absent from the coprolite from the Črnelnik site, we believe that we are dealing with an individual that had only eaten fish heads. The absence of plant macroremains (except individual seeds of flax and blackberries) additionally convinced us that this is most probably dog excrement.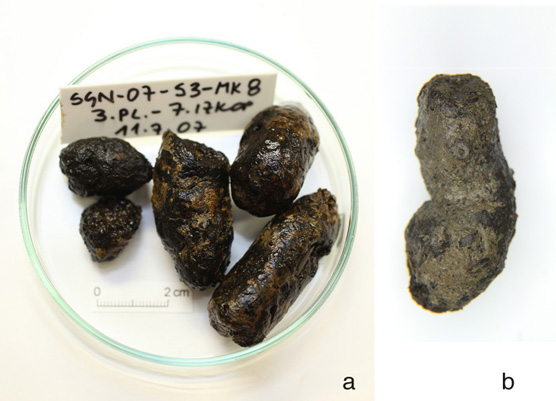 Fig. 1: An example of the sample with a) 5 dog/human coprolites from the Stare gmajne site (2007) and b) a sample of corpolite from the pile-dwelling Črnelnik (2017) .
The main aim of this project is to interdisciplinarly analyse each of the pieces of excrement and first of all to determine whether they are likely to be of canine or human origin and to get different kind of information that such finds offer us. The next step is to do a further small-scale excavation close to where majority of coprolites were found, which will enlarge the research area as well as the research material (archaeological and archaeobiological, including possibly newly discovered coprolites).
Plant and/or animal macrofossil content in the faeces (as well as in the cultural layer) will confirm the daily diet of the producers. Therefore, beside the archaeobotanist, an archaeozoologist, especially an expert in bird and fish bones will also have to be involved in this project. Partners from the Austrian Archaeological Institute (ÖAI) at Austrian Academy of Sciences (ÖAW), Vienna and from the Faculty of Natural Sciences and Mathematics at the University of Maribor will analyse possible fish and bird remains. Possible mammal and plant remains will be analysed by the leader partner of this project, the Institute of Archaeology at the Scientific Research Centre of the Slovenian Academy of Sciences and Art (ZRC SAZU), Ljubljana. Pollen analysis of the coprolites will be used to provide additional information on seasonal site occupation. The presence of ancient gastrointestinal parasites will be studied at the Chrono-Environment Laboratory at the University Bourgogne Franche-Comte, Besançon in France, which is the third partner of the project. This study will give information about the health of the individuals and about the origin of the faeces, either dog or human. In addition, extraction and multiplication of mitochondrial DNA (mt-DNA) sequences, and the analyses of biomarkers will be performed on some of the best preserved coprolites. Genetic research will be done by the fourth partner, Faculty of Mathematics, Science and Information Technology at the University of Primorska, Slovenia. If successful, the relationship between the coprolites will be determined. The analyses of biomarkers will take place within the framework of Austrian part of the project, and it will be held at the Institute of Chemical Technologies and Analytics, Vienna University of Technology. Chemical analyses of the presence of certain biomarkers (such as lipids, steroids, terpenoids, ketones, etc.) in coprolites provide information on predominantly vegetarian or carnivore individuals. To complete the multidisciplinary investigation of the coprolites, C14 dating of some of them will be necessary as well. The organic content of terrestial plant or animal macroremains preserved in waterlogged coprolites will be send to one of the specialized radiocarbon laboratories, like in Poznan or Beta Analytic in the USA.
The proposed small scale re-excavation at the Stare gmajne site is important, not only for the possibility of obtaining some more coprolites that are evidently very abundant at that site. Other archaeological and archaeobiological investigations will also be carried out at the same time. The proposed project is also important as a rescue excavation of cultural heritage of one of the most important pile-dwelling site in Slovenia.

Fig. 2: The level of preservation of flax and poppy seeds / fruits at the Stara gmajna pile-dwelling has visibly deteriorated in 14 years: 1) in 2007: a) flax residues; b) poppy seeds and 2) in 2021: a) flax residues; b) poppy seeds.
Project team
Project steps
First we preliminarily multidisciplinary analyse six excrements (coprolites) from Stare gmajne site, which were found during excavations in 2007. Palynological, palaeoparasitological, archaeobotanical, archaeozoological analyses and an attempt to isolate mt-DNA will be performed. The results will be published in the SCI journal.
Phase 1
In the first year, we carried out small excavation at the endangered Stare gmajne site. We discovered a new - fresh coprolites. New, freshly waterlogged preserved material is certainly be more suitable for the detailed research, especially for DNA and analysis of biomarkers.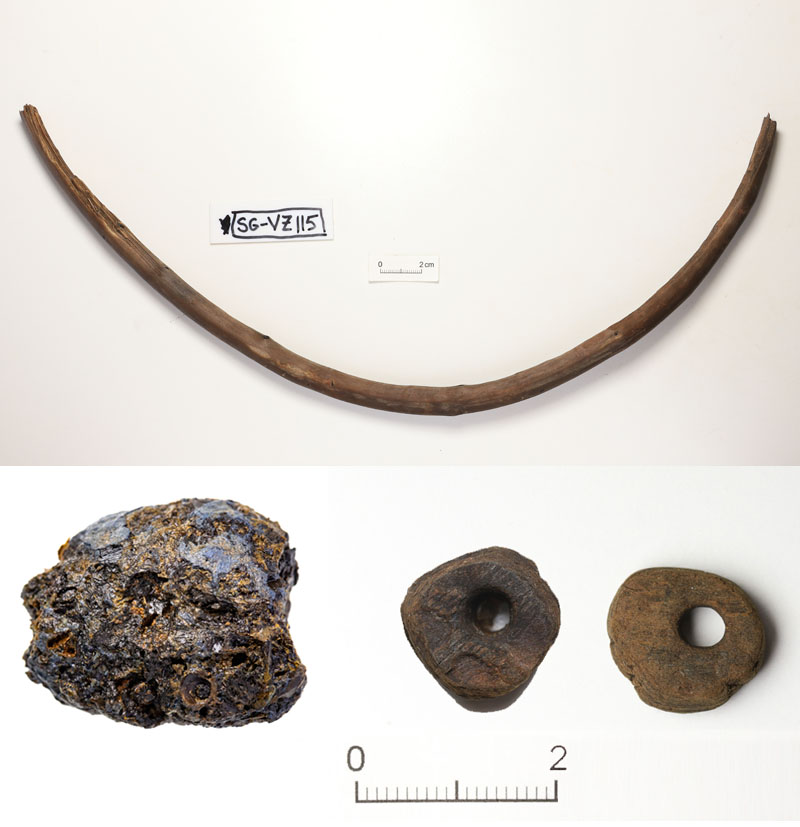 Stare gmajne, finds from the 2021 trench (bow, corpolite and wooden rings)
Based on the experience of the investigation on "old" excrements, analyses of long-term research on possible new excrements began, i.e.: analysis of biomarkers, led by Prof Erwin Rosenberg, isolation and possible DNA amplification, led by Prof Elena Bužan, pollen analysis, which will be led by Assist. Prof Maja Andrič and the analysis of palaeoparasites, which will be led by Prof Matthieu Le Bailly.
Phase 2
With a delay of a year, macro-analyses will be carried out, which will finally demolish the excrements. By gentle wet flotation method with 0.056 mm mesh-sized sieve, each excrement will be sieved separately and all macro-remains, plant and animal, will be sorted out and collected. Digested species and body parts will be identified and quantified by Assist. Prof Tjaša Tolar for plant remains, Assist. Prof Borut Toškan for mammal remains, Prof Franc Janžekovič for bird remains and Assist. Prof Alfred Galik and his colleagues for the fish and possible amphibians and reptiles remains.
Phase 3
The third project year will be dedicated to the joint interpretation of the obtained results and preparation of the publication in the SCI journal.

Periodical plan of the research project in years 2020–2023
Results
VELUŠČEK, Anton, LEGHISSA, Elena, TOLAR, Tjaša, Stare gmajne pri Verdu. Arheološko najdišče presežkov. − Palafittes, Pfahlbauten, Palafitte, Kolišča, Pile Dwellings, News 21, 2021, 100−105.
JANŽEKOVIČ, Franc, KLENOVŠEK, Tina, MLÍKOVSKÝ, Jiři, TOŠKAN, Borut, VELUŠČEK, Anton. Eneolithic pile dwellers captured waterfowl in winter : analysis of avian bone remains from two pile dwellings in Ljubljansko barje (Slovenia). International journal of osteoarchaeology. [Print ed.]. 2021, 1−10. DOI: 10.1002/oa.3012.
TOLAR, Tjaša, GALIK, Alfred, LE BAILLY, Matthieu, DUFOUR, Benjamin, CAF, Nina, TOŠKAN, Borut, BUŽAN, Elena, ZVER, Lars, JANŽEKOVIČ, Franc, VELUŠČEK, Anton. Multi-proxy analysis of waterlogged preserved Late Neolithic canine excrements. − Vegetation history and archaeobotany 30, no. 3, 2021, 107−118. DOI: 10.1007/s00334-020-00805-y.
TOLAR, Tjaša, VOVK, Irena, JUG, Urška. The use of Cornus sanguinea L. (dogwood) fruits in the Late Neolithic. Vegetation history and archaeobotany. [Print ed.]. 2021, vol. 30, no. 3, str. 347-361, ilustr., zvd. ISSN 0939-6314. DOI: 10.1007/s00334-020-00788-w.
LEGHISSA E., Deschmann's pile-dwelling sites near Ig and the cultural-chronological attribution of the Late Copper Age Ljubljana culture / Kulturna in časovna umestitev poznobakrenodobne ljubljanske kulture na Dežmanovih koliščih pri Igu, Arheološki vestnik 72, 2021, 7−51. doi: https://doi.org/10.3986/AV.72.01
ANDRIČ, Maja. Maharski prekop, Stare gmajne and Blatna Brezovica settlements and the vegetation of Ljubljansko barje (Slovenia) in the 4th millennium cal BC. − Documenta Praehistorica. Poročilo o raziskovanju paleolitika, neolitika in eneolitika v Sloveniji. Neolitske študije= Neolithic studies 47, 2020, 420−445, DOI: 10.4312/dp.47.24.
VELUŠČEK, Anton. The Ljubljansko barje in Central Slovenia during the Copper Age. − In: GUTJAHR, Christoph, TIEFENGRABER, Georg (ed.). Beiträge zur Kupferzeit am Rande der Südostalpen : Akten des 4. Wildoner Fachgesprächs am 16. und 17. Juni 2016 in Wildon/Steiermark (Österreich), Materialhefte zur Archäologie des Südostalpenraumes, Bd. 1, 2020, 223−238.
TOLAR Tjaša, GALIK Alfred, A Study of Dog Coprolite from Late Neolithic Pile-Dwelling Site in Slovenia. − Archaeological Discovery 7, 2019, 20−29.