Roman coarse pottery database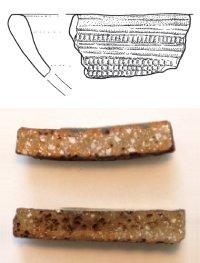 Collection description
The roman coarse pottery database enables a systematic processing of all ceramic material, accessible in a unified database, including objective and unified descriptions of forms and fabrics and also drawings and photos of the vessels.
content
The territory of the modern Slovenija, located at the juncture of the Mediterranean, Alpine and Pannonian words, represented in the Late Antiquity an extremely dynamic area, where the remains of the Roman civilisation mixed with the peoples penetrating across the borders of the Roman Empire.
The most distinctive settlement form of these turbulent times are the hill-top strongholds. Among the material finds from the excavated settlements the pottery is markedly prevalent.
The pottery products belong to the most important sources of archaeological research, owing to the potential both for the chronology and also for the study of economical, sociological and ethnical relationships. Pottery analysis in Europe and Mediterranean made a great progress in the past few decades, however, the development in Slovenia (especially in the domain of the coarse pottery) was not following those trends.
The database is an essential part of a project J6-2202.