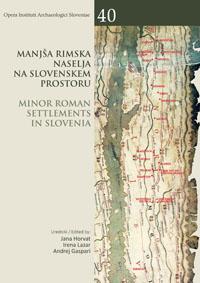 Manjša rimska naselja na slovenskem prostoru.
Minor Roman settlements in Slovenia.
Edited by: Andrej Gaspari, Jana Horvat, Irena Lazar
Publishing House: Založba ZRC
Year: 2020

The book discusses the minor settlements that dotted the territory of present-day Slovenia in the Roman period. This geographically diverse territory was crossed by important lines of communication and divided between three large administrative units of the Roman state: Italy and the provinces of Noricum and Upper Pannonia. Twenty-six authors wrote contributions on individual settlements in a comprehensive and clear manner roughly following a common concept. The presentation of each settlement opens with its location and name in Antiquity, possible habitation traces from prehistory, mentions in ancient literary texts and documents, and recovered epigraphic evidence. The next, main part offers an overview of the archaeological remains from the Roman period: topography, infrastructure, buildings, cemeteries and portable remains of particular significance. This is followed by the information on the status of a settlement, social standing of its inhabitants, their administrative or military functions, as well as professional or ethnical background. All is brought together in an outline of the historical development of each settlement.
High resolution pdf (167,3 MB)
---
Edited by

Other authors

individual contributions

Uroš Bavec

,

Andrej Gaspari

,

Lucija Grahek

,

Mira Strmčnik Gulič

,

Jana Horvat

,

Saša Djura Jelenko

,

Draško Josipovič

,

Peter Kos

,

Ana Kovačič

,

Boštjan Laharnar

,

Irena Lazar

,

Edisa Lozić

,

Alenka Miškec

,

Zvezdana Modrijan

,

Ana Plestenjak

,

Anja Ragolič

,

Milan Sagadin

,

Ahac Šinkovec

,

Špela Tomažinčič

,

Vesna Tratnik

,

Maruša Urek

,

Julijana Visočnik

,

Janja Železnikar

,

Tina Žerjal

Publishing House

Založba ZRC

Publisher

ISBN

978-961-05-0257-9

Year

2020

Series

Specifications

hardback 20 × 29 cm 424 pages 232 plans, photos and drawings

E-publications

11. 02. 2020

Permalink