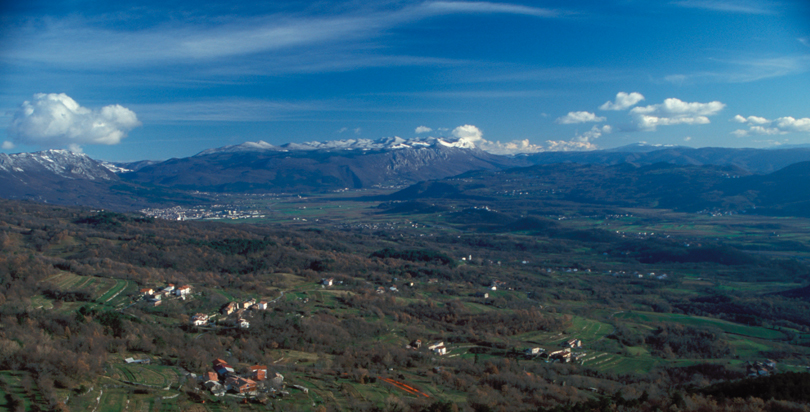 View from the west. Vipava valley in the foreground, the Nanos plateau in the background, to the left the pass towards Hrušica, to the right the pass across Razdrto (photo: S. Ciglenečki)
As one of the leading research and educational centers for archaeology in Slovenia, Institute of Archaeology ZRC SAZU ranks as the cutting-edge academic institutions in Central and South-Eastern Europe. The Institute comprises of an independent network of researchers and technicians who are joined in highly qualified and well-rounded research teams. Members of the Institute have published numerous synthesis works, resulting in over fifty monographs.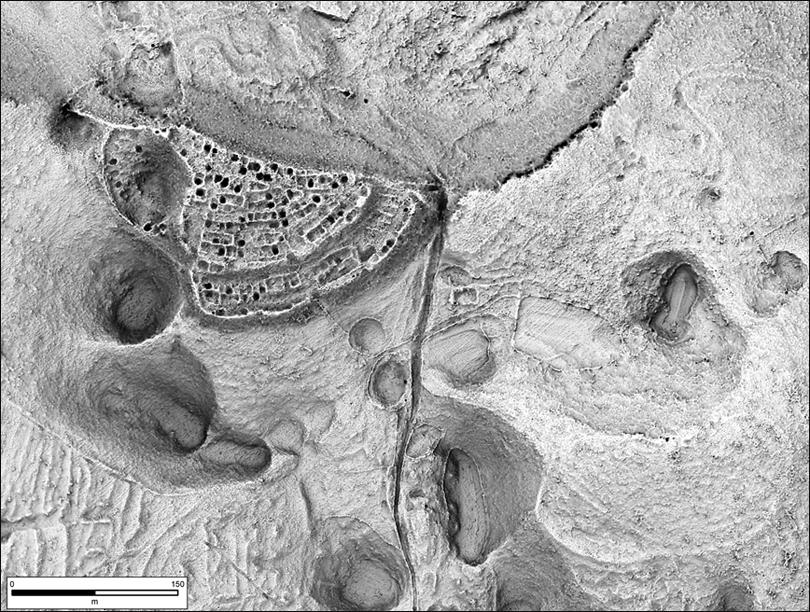 Gradišče above Knežak. Digital surface model based on ALS data (data processing and visualization: Edisa Lozić)
In addition to the wide spectrum of basic and applied research in all archaeological periods, the researchers continuously deal with the development of new research methodologies, especially in the field of archaeological science. We have been involved at various stages of the development of GIS and geophysical research in archaeology in past two decades.
The programme is focused on fundamental research to acquire new knowledge about the development of man and society in the earliest periods. It is multi-layered and encompasses a wide range of activities, from the implementation and testing of new research methods and the construction of databases and documentation systems to acquiring new insights into settlement structures, trade, social processes, and the way of life of people who lived in the south-eastern Alps from prehistory to the Middle Ages.
It covers several topics: Palaeolithic and Mesolithic, Neolithic and Eneolithic, Bronze Age, Iron Age, Roman Age, Late Antiquity, Early Middle Ages, Epigraphy, which operates within the Center for Epigraphy, the only institution of its kind in Slovenia, and natural sciences in archaeology, where we deal with palynology, archaeobotany, and archaeozoology. Within the programme group, comparative databases of national relevance for archaeobotany and archaeozoology are being created, and at the same time the equally important Arkas, Zbiva and Libera databases are being upgraded and updated.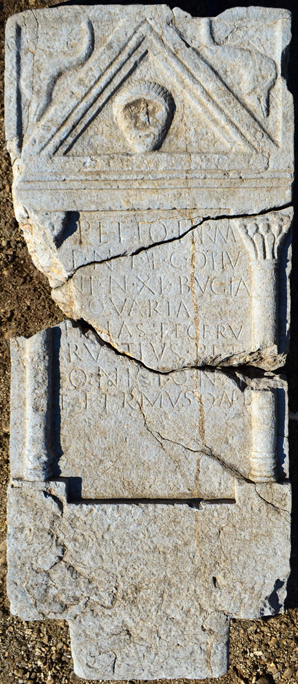 Ig, the funerary stele for Petto and his family (photo: M. Lukić)
We edit the central Slovenian archaeological journal Arheološki vestnik and the monographic series Opera Instituti Archaeologici Sloveniae and E-Monographiae Instituti Archaeologici Sloveniae.