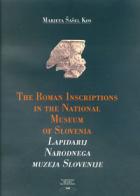 Title:
Author:
Year:
Compilation:
Situla 35
Keywords:
Language(s):
Description
Modern lapidarij rimskih kamnitih spomenikov je od leta 1998 postavljen v Narodnem muzeju Slovenije na hodnikih visokega pritličja in v steklenem paviljonu na muzejskem vrtu, ki je bil uradno odprt za javnost sredi 2007. Na obeh lokacijah je obiskovalcem predstavljenih nekaj več kot 200 kamnov z napisi in/ali reliefi ter nekaj kipov. Ti so bili pred letom 1995 brez reda večinoma vzidani v stene visokega pritličja, nekaj pa jih je ležalo v neurejenih depojih. Največ jih izvira iz glavnega mesta Slovenije, Ljubljane (rimska Emona), iz bližnje vasi Ig, s Trojan (antični Atrans) in z Dolenjske. Rimski spomeniki z latinskimi napisi so v knjigi objavljeni s prevodom in izčrpnim komentarjem; prevladujejo nagrobniki, veliko je tudi oltarjev posvečenih različnim božanstvom, nekaj pa je gradbenih in počastilnih napisov in miljnikov. Delo zaključujejo podrobni indeksi, ki omogočajo preglednost vsebine.
Izšla je v zbirki Situla Narodnega muzeja Slovenije (35, 1997).
***
Naročila: Narodni muzej Slovenije, Prešernova 20, SI-1000 Ljubljana ali: blagajna@narmuz-lj.si.
The collection of Roman stone monuments, one of the most important collections of the National Museum of Slovenia, has been on display since 1998 in a modern lapidarium, which was arranged in the narrow hallways of the ground floor. Several monuments are also displayed in a glass pavilion in the museum grounds, which was officially opened in mid-2007. The collection contains some 200 pieces, most of immured in the walls without any logical order prior to 1995, or else stored in the basement, where they were not accessible for research. They are mainly from Slovenia's capital, Ljubljana (Roman Emona) and the nearby village of Ig, as well as from Trojane (Roman Atrans, an important road station on the way to Noricum) and Lower Carniola (Dolenjska). The Latin inscriptions are published with translations and exhaustive commentaries. Most of the monuments are tombstones and votive altars dedicated to various divinities, while some are imperial and building inscriptions, as well as milestones. The corpus of inscriptions is accompanied by detailed epigraphic indexes.
***
Orders: Narodni muzej Slovenije, Prešernova 20, SI-1000 Ljubljana, Slovenia or: blagajna@narmuz-lj.si.
Publishing House
Narodni muzej Slovenije
ISBN
961-6169-07-6
Specifications
hardback • 30 x 23,5 cm • 541 pages • 207 photographs, drawings and maps
Price
50,00 EUR (Regular); for sale in the bookshop Azil