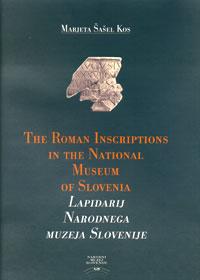 The Roman Inscriptions in the National Museum of Slovenia.
Lapidarij Narodnega muzeja Slovenije.
Author: Marjeta Šašel Kos
Publishing House: Narodni muzej Slovenije
Year: 1997

The collection of Roman stone monuments, one of the most important collections of the National Museum of Slovenia, has been on display since 1998 in a modern lapidarium, which was arranged in the narrow hallways of the ground floor. Several monuments are also displayed in a glass pavilion in the museum grounds, which was officially opened in mid-2007. The collection contains some 200 pieces, most of immured in the walls without any logical order prior to 1995, or else stored in the basement, where they were not accessible for research. They are mainly from Slovenia's capital, Ljubljana (Roman Emona) and the nearby village of Ig, as well as from Trojane (Roman Atrans, an important road station on the way to Noricum) and Lower Carniola (Dolenjska). The Latin inscriptions are published with translations and exhaustive commentaries. Most of the monuments are tombstones and votive altars dedicated to various divinities, while some are imperial and building inscriptions, as well as milestones. The corpus of inscriptions is accompanied by detailed epigraphic indexes.
---
Author

Publishing House

Narodni muzej Slovenije

Publisher

ISBN

961-6169-07-6

Year

1997

Series

Situla 35

Specifications

hardback 30 x 23,5 cm 541 pages 207 photographs, drawings and maps

Permalink