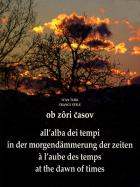 Title:
Author:
Other authors:
Year:
Keywords:
Language(s):
Description
Slovenski paleolitik premore dve najdišči, ki močno izstopata iz evropskega povprečja. To sta jamski najdišči Divje babe I in Potočka zijalka. Obe se med seboj dopolnjujeta in slovita vsako po svoji enkratni najdbi: Divje babe I so pomemben zaradi najstarejše, zaenkrat domnevne piščali, Potočka zijalka pa zaradi najstarejše šivanke. Oba predmeta sodita med temeljne pridobitve človeštva in v rahlo spremenjeni obliki še vedno služita svojemu prvotnemu namenu, čeprav so od genialnega izuma minila dolga desettisočletja.
The Slovenian Paleolithic has left two outstanding sites of European importance, the cave sites Divje babe I and Potočka zijalka. The supplement each other and each is famous for an unique find: Divje babe I is primarily important for the oldest, for the moment suspected, flute and Potočka zijalka for the oldest needle. Both artefacts are among the basic advances of mankind, and still serve their purpose in a slightly changed form, although long tens of millennia have passed since their brilliant invention.
More ...
Knavs Martina, Ivan Turk, France Stele: Ob zôri časov / All'alba dei tempi / In der Morgendämmerung der Zeit / A l'aube des temps / At the dawn of times 1997, Arheološki vestnik 53, 2002, 432.
Publishing House
Založba ZRC
ISBN
961-6182-33-1
Specifications
hardback • 24 × 31,5 cm • 104 pages • 26 b-w and 62 colour photos