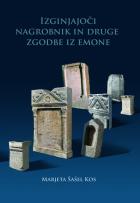 Title:
Author:
Other authors:
Year:
Keywords:
Language(s):
Description
Zgodbe so nastale na osnovi rimskih spomenikov z napisi, ki jih hranita Narodni muzej Slovenije in Muzej in galerije mesta Ljubljane. Rimski napisi Emone in širše okolice so namreč zelo zanimiv vir podatkov o življenju v Emoni in nam na neposreden način razkrivajo različne plati vsakdanjika emonskih prebivalcev.
Knjižica v desetih kratkih zgodbah oriše zanimive in nenavadne usode nekaterih posameznikov, ki so resnično živeli v Emoni ali na njenem podeželju, v enajsti pa pojasni, zakaj so v antiki in še dolgo pozneje menili, da so Emono zgradili Jazon in njegovi argonavti.
"The Disappearing Tombstone and Other Stories from Emona" is a collection of ten stories about real people, who once lived in Emona or the surrounding countryside. These stories shed light on the everyday lives and often highly unusual fates of these people. The eleventh story reveals why the Romans believed that Emona had been founded by Jason and his Argonauts. The myth would lead later historians to believe that Emona was older than Rome.
The stories are based on the inscriptions from Roman funerary and other monuments, which are kept the lapidarium of the National Museum of Slovenia and in the City Museum of Ljubljana (MGML). The booklet is partly a result of the EAGLE project ("Europeana Network of Ancient Greek and Latin Epigraphy") and partly of the programme "Archaeological Investigations" of the Institute of Archaeology ZRC SAZU.
Table of content
Nekaj zanimivosti iz zgodovine Emone
Stoletniki na emonskem podeželju
Karna – zavetnica rimskih malčkov
Nagrobnik, ki je izginjal
O levih in delfinih
Ko udari strela ...
Skrivnostna boginja
Bogovi, praznoverje in magija
Umor v okolici Emone in drugi zločini
Bogate emonske družine
Smrt v Ljubljanici
Argonavti v Emoni
Zahvala
Seznam slik
More ...
Zgodbe iz Emone; Recenzije, Demokracija 28XX, 9. 7. 2015
Publishing House
Založba ZRC
ISBN
978-961-254-763-9
Specifications
paperback • 16,5 × 22,5 cm • 76 pages • 50 photographs, drawings and maps
Price
12,00 EUR (Regular)
9,00 EUR (Club)