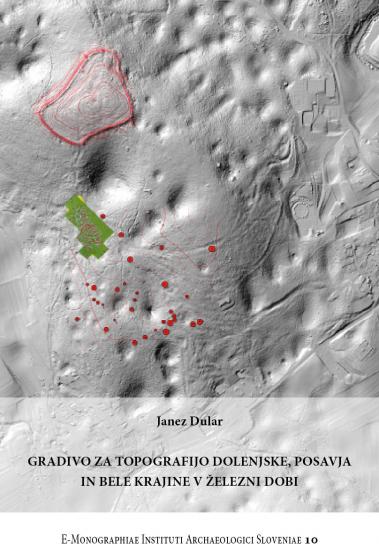 Gradivo za topografijo Dolenjske, Posavja in Bele krajine v železni dobi
Author: Janez Dular
Year: 2021

The e-publication entitled Gradivo za topografijo Dolenjske, Posavja in Bele krajine v železni dobi ('Available evidence for the topography of the Dolenjska, Posavje and Bela krajina regions in the Iron Age', only in Slovenian) presents over six hundred sites in the three regions of south-eastern Slovenia that date from this distant period of the past. It is a database that upgrades the first register of Slovene archaeological heritage (Arheološka najdišča Slovenije), published in 1975 by the Institute of Archaeology at the Slovenian Academy of Sciences and Arts. This register was created with the data then available in literature, while field surveys were only performed on select sites or areas. It was followed up by a project devoting to the archaeological topography of Slovenia (Arheološke topografije Slovenije), the main objective of which was to accurately map the already known sites, as well as to discover new ones. Of all the regions of Slovenia, only the updated topography of three regions was published, among them Bela krajina, which was an integral part of the Dolenjska community in the Early Iron Age.
Filling the void was a project focused on the prehistoric fortified settlements in Dolenjska (Utrjena prazgodovinska naselja na Dolenjskem), but also other types of sites from the Late Bronze and Early Iron Ages. As remote sensing technologies such as LiDAR were not yet available at that time, field surveys were conducted across the entire area. The characteristics of the Early Iron Age settlement in south-eastern Slovenia, with hillforts and tumulus cemeteries, partially predetermined the field surveying activities. In the framework of this project, archaeological sites were precisely located, measured, somewhere also trial trenched, and dated.
Studies of archival sources were a special segment of these investigations. Excavators at the end of the nineteenth and in the twentieth century, who opened many tumuli in Dolenjska, left behind not only valuable finds, but also a multitude of letters, reports and notes, important for the study of settlement structures. Based on the collected and evaluated archival sources, it was possible to reconstruct the history of research of individual sites.
The database thus created was used in a comprehensive study on the Early Iron Age settlement, economy and society in south-eastern Slovenia, published in 2007. The collected data and archival sources are upgraded in the present e-publication and openly available to interested researchers for their future investigations of this important period of the local ancient past.
---
Author

Other authors

Edited by

Publishing House:

Založba ZRC

ISBN

978-961-05-0510-5

Year

2021

Language(s)

Specifications

internet publication pdf 1121 pages three volumes 1341 plans, photograps and drawings, Appendix

E-publications

18. 01. 2021

Permalink