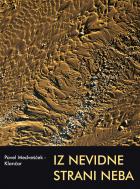 Title:
Author:
Other authors:
Year:
Compilation:
Keywords:
Language(s):
Description
Knjiga govori o stari veri, starovercih in staroverstvu kot načinu življenja, kot so ga poznali naši predniki, preden so jih pokristjanili. Vendar ne opisuje nečesa, kar je živelo samo pred več kot tisoč leti, ampak izpričuje življenje v 19. in 20. st. tu, med nami. Pavlu Medveščku se je pred pol stoletja posrečilo pridobiti zaupanje skupine posoških starovercev, da so ga sprejeli za svojega »spovednika« in pričevalca. Pri tem jih je vodila zavest, da so zadnji svoje vrste in imajo enkratno priložnost povedati svetu, kdo so in kako živijo na način, ki izumira. V srednjeveških in zgodnjenovoveških spisih obstajajo opisi stare vere v Evropi, vendar so njihovi avtorji kristjani, večinoma celo krščanski duhovniki. Njihova obveščenost je nujno pomanjkljiva, podajanje snovi pristransko, slabšalno, posmehljivo, podoba stare vere neizogibno povsem izkrivljena. Skozi Medveščka kot zapisovalca nam v knjigi staroverci sami govorijo o sebi. To se jim nikjer drugje in nikoli prej ni posrečilo, tudi zato, ker so se morali nenehno prikrivati in pretvarjati. Prav ta »notranji glas« daje knjigi neprimerljivo, enkratno vrednost izjemnega pomena, še posebno v vedno bolj podivjanem globalnem svetu.
The book ('From the Invisible Side of the Sky') talks about the Old Faith religion (Non-Christian faith), Old Faith people as well as about the Old Faith as a way of life which was known to our ancestors, before they were Christianized. However, it does not describe something that was alive just a thousand years ago, but it attests life in the 19th and 20th century, here, among us. Pavel Medvešček, half a century ago, managed to win the trust of the Old Faith people in the Soča valley (western Slovenia). He was accepted as their "confessor" and speaker. In doing so, they were led by an awareness that they are the last of their kind and have a unique opportunity to tell the world who they are and how they live in a way that is dying out. In medieval and early modern writings there are descriptions of the Old Faith in Europe, but their authors were Christians, mostly even Christian priests. They were necessarily deficient informed, their story biased, pejorative, mocking, their image of the Old Faith inevitably completely distorted. Through Medvešček as a writer, in the book the Old Faith people themselves talk about themselves. This did not succeed ever before and elsewhere, because they constantly have to hide and to pretend. It is this 'inner voice' which gives the book an incomparable, unique value of utmost importance, especially in an increasingly wilder, globalized world.
Table of content
Staroverstvo in pričevanja starovercev (Andrej PLETERSKI)
Pripovedi iz življenja in verovanja staroverk in starovercev desnega brega Soče
Pripovedi iz življenja in verovanja staroverk in starovercev levega brega Soče

Taura
Jelenk
Banjšice
Babja jama z okolico
Dujence (Mrzli potok)

Pripovedi iz življenja in verovanja staroverk in starovercev ob Idrijci in Bači
Drobci staroverstva izven Posočja
Namesto konca: klic gozdnega duha
Seznami (Mateja BELAK)
More ...
Vesna Humar: STARA VERA ZA 21. STOLETJE KOT PAR NOVIH ČEVLJEV PRED ZIMO; Primorske novice 23.6.2017
Vesna Humar: STRAN NEBA, KI POSTAJA VIDNA; Primorske novice 5.6.2017
Veronika Gnezda:  POGOVOR S PAVLOM MEDVEŠČKOM; Radio Slovenija, Val 202 - 10.45, 19.3.2016
Dejan Ogrinec: KAKO SO SE ZDRAVILI STAROVERCI; Pomagaj si sam 24.1.2017
Miha Naglič: IZ NEVIDNE STRANI NEBA; Gorenjski glas 11.11.2016
Publishing House
Založba ZRC
ISBN
978-961-254-784-4
Specifications
hardback • 20 × 27 cm • 576 pages • 164 illustrations, photos, maps and plans